Over the last few decades, we have seen betting transform from being an activity that was usually frowned upon to become the favourite pastime of a wide range of people in recent times. With innovation, more strategies have been applied to ensure a smooth running of betting operations and one of them is the introduction of crypto betting.
Crypto Betting as the name implies is simply a form of betting where crypto is used as the currency for placing bets. Considering the fact that crypto has been received with open arms by a wide range of people worldwide, it is only expected that betting companies accommodate crypto in their services. Further, in this article, we will be taking a broad look at what crypto entails, including how to get started.
Why is Crypto Betting Popular?
One of the reasons that triggered a positive shift in crypto betting was the recent monumental rise in bitcoin. This rise caused an upward movement in market prices of the most sustainable cryptocurrencies, which led other users to purchase more. Looking at the fact that crypto was experiencing such a boom and more people were actively buying, a lot of bookies that only offered traditional payment methods, started accommodating crypto.
As expected this saw an increase in the volume of bets recorded by these companies as more crypto holders were encouraged to patronise these platforms. It would also suffice to add that the provision of football tokens and the boosted betting mania especially during Qatar 2022, made some impact on the popularity of crypto betting.
Tips to Get Started with Crypto Betting
Having gotten background info about what crypto betting entails and the factors that contributed to its popularity, it is only proper we get into how to indulge in crypto betting.
1. Make a Short Research
The knowledge they say is power. To excel at crypto betting, it is necessary you take a timeout to understand the workings of the crypto markets. Most importantly, you want to understand the utility of the popular cryptocurrencies out there, their pros and cons, to help you make better decisions going forward. Some cryptocurrencies can boast of higher transaction speed, while others have lower fees or higher security, so you definitely should check their features before buying. One sure way to do that is to do enough research and most importantly get information from authoritative sources like Coinmarketcap.
2. Buy Your Preferred Crypto
Now that you have ticked the first step off, it is time to make your move. Your research would have informed your position on the best crypto to buy. There are multiple cryptocurrency exchanges available out there today, one of the biggest ones being blockchain.com. It would suffice to note that you should be careful about where you buy your crypto to avoid being defrauded given the increasing rate of such activities in recent times. Blockchain.com comes highly recommended, as they have built a reputation as one of the rock-solid crypto exchanges over the last couple of years.
There you can exchange fiat for any crypto of your choice using the exchange rates at the time of purchase. On the site, you will be able to create a wallet where you can store this crypto you have purchased. You can as well see the wallet as your "bank account." This is where you can move your crypto funds from when in need to use it on a betting platform.
3. Find a Platform to Start Crypto Betting
All that information about the core aspects of crypto wouldn't be put to good use if you don't know the best platform to start betting. One of the pacesetters in the crypto betting world is 1xBit.
This platform since it came to the betting scene has taken the betting industry by storm as it provides innovative ways crypto betting can be actualized. So far, the platform has become the template other platforms are looking up to as it pertains to crypto betting. This platform favours its users with some perks like fast payouts, and total anonymity, which all explains why it has accumulated a truckload of users.
4. Register, Deposit, and Placing Bets
The next step now is to register. Registration for most crypto betting platforms is often a breeze, especially for 1xBit.
At 1xBit, you are allowed to register with just your email and password, which takes less than a minute. This holds more advantages as it also gives you the chance to maintain anonymity, which is something a lot of bettors yearn for. Don't forget to enable the "Take part in bonus offers" checkbox in your account settings to get more bonuses on the platform.
1xBit takes its spot on services a notch further by offering you up to 7 BTC in a welcome bonus for your 1-4th deposits. This is highly expected to come in handy for you as a new user of the brand to enable you to navigate their services better. To boost your first deposit even more use a promo code INSUS1X that will give you a 125% bonus.
To replenish your balance you should go to the "My Account" section, then to the "Account Details", where you will find "Your Wallet". Pick any currency you will transact with: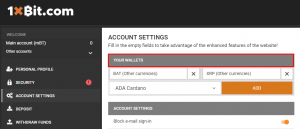 If you add several currencies then you must set the one as your main account. You can change the main account at any time.
5. Betting with Crypto
Now that you have scaled all the hurdles stated above, you are now set to fully practise crypto betting and enjoy the gains. If you are a football lover, even better, as the platform seems to have a liking for the sport. If you are a huge fan of having variety, then 1xBit is one betting destination you will definitely enjoy as the platform also covers a variety of games on over 30 sports. First, find a sport and match you would like to place a bet on: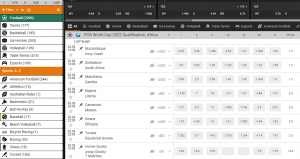 The platform provides betting markets on a broad selection of football games. It takes it a step further by ensuring each of these football events has over 200 betting options to pick from: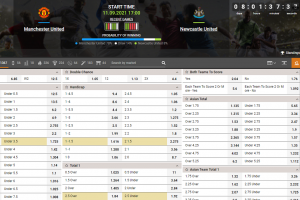 Before staking choose one of the conditions you find the most profitable: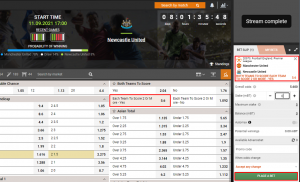 Press "Place a bet" and you are all set!
Conclusion
Crypto betting is the rave of the moment in this current era in the betting industry. Try this new experience at 1xBit today and enjoy mouthwatering bonuses that would leave you becoming a returning user!
Sponsored post by: 1xBit (1xbit1.com)
Subscribe to see the most useful team news from each league.
Like this? Like us on FACEBOOK and follow us on TWITTER and INSTAGRAM!