The internet is topped up with offers for sports betting. Therefore, getting lost is rather easy. Yet, as we are talking about a sensitive topic involving money, the prospect of losing it is highly frightening, and thus many people are reluctant to try it even if they are interested. Nevertheless, much like when buying a house, having an intermediary that makes sure that every party holds their end of the deal is an excellent way to ease any worry, and that's exactly what BET-IBC, the best betting broker does.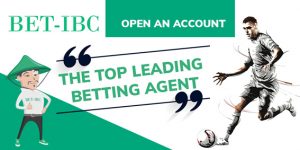 As an intermediary, BET-IBC makes ensures that everything goes according to your betting plan and that their allied bookies are indeed reliable, yet that's only the tip of the iceberg of the services they provide. That's why today we are going to take a closer look at all the benefits a betting account through the best agent presents.
An agent for Asian and European bookmakers
A betting agent is a clever and simple concept: an intermediary between bookmakers and players. BET-IBC goes well beyond that, though. For example, they work with the main types of online betting establishments available in the market: sportsbooks, where you can wager against the house which offers fixed odds; and exchanges, websites where punters offer their own odds and bet against each other.
Additionally, the brand is especially useful for inhabitants of countries and regions where bookmarkers' operations are restricted. Fear not, that doesn't mean that there is some kind of illegal activity going on; quite the opposite. BET-IBC is licensed by the Antillephone Authority of the Curacao Government and has over 15 years of experience in the industry. That's why it is also favoured by players that do not want to open an account on an unsafe website due to obvious security concerns.
Advice directly from the experts
Any football fan can bet on their team against a friend from a rival club just for the fun of it. And there's nothing wrong with that. However, wagering on others from different leagues and tournaments requires more than loyalty. Extensive knowledge of teams, players, and leagues is also a must, yet the average Joe might feel lacking in that regard, which ultimately leads them to desist from the online wagering endeavour. That's why BET-IBC also offers a solution for it, and at different levels at that.
The first level is the news section which provides users with a weekly piece of news on the most relevant happenings in the sports scene. Next, they have the blog section, where novice and experts-in-the-making punters can learn the very basis of betting, going from elemental concepts to advance strategies and tactics that will facilitate a deeper understanding of the matter at hand.
Last but certainly not least, they have the best professional team of tipsters that provide their picks free of charge each week. The best part is that they do not simply tell players where and what to bet, a usual practice nowadays, but instead they supply a preview 10 days before the event explaining what can be expected from it, and, 3 days before the match, they show their own bet slip while didactically telling punters why they chose that.
Easy and effective in every aspect
The best betting broker is adamant about stressing that they provide solutions for online sports betting. That includes the monetary aspect, which is certainly the most sensible one. For instance, funding an account is possible through bank transfers, Rapid Transfer, e-wallets, and cryptocurrencies. Moreover, for punters that do not trust electronic money or have bigger security concerns, there is the option of paying cash using CashToCode, which allows players to fund their betting accounts with physical bills and coins in determined pi
All those features make BET-IBC an excellent option when it comes to sports betting, especially in football, considering they have odds for matches even in the lesser popular leagues. In case there still are some unanswered questions, their website has anything your need, including the possibility of contacting their customer support team, which is available 24/7. After that, you will surely want to open a betting account via an agent.
Subscribe to see the most useful team news from each league.
Like this? Like us on FACEBOOK and follow us on TWITTER and INSTAGRAM!